History & Heritage
A destination with rich historical roots woven into our core, Florida's Capital City is home to one of the largest and oldest historically black universities in the country and an array of museums and historic sites each offering a glimpse into the lives that shaped Tallahassee.
10 AMAZING TALLAHASSEE TRAILS
Get out of the city and explore some of Tallahassee's best trails. We're highlighting 10 of our personal favorites, but there are even more to explore at Trailahassee.com. You can search by terrain, activity, skill level, and more, so finding the path to the perfect getaway is only a few clicks away.
Read More
History & Heritage Blog Posts
Browse
History & Heritage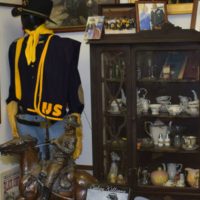 The museum features more than 3,000 artifacts representing local, state and national African-American history. Open Tuesday-Saturday 10 a.m.- 5 p.m.
214 Alexander St
Thomasville FL 3l792
(229) 226-5029
Housed within the first Carnegie Library built on a black land-grant college campus, the Meek-Eaton Black Archives has one of…
445 Gamble Street
Tallahassee FL 32307
(850) 599-3020
The Concord Schoolhouse was originally completed in 1897 for African American children in the small town of Miccosukee Florida. It…
3945 Museum Rd.
Tallahassee FL 32310
Listed on the National Register of Historic Places, this is the site of two forts – a British fort built…
Forest Road 129-B
Eastpoint FL 32328
(850) 643-2282
The former home of the legendary Florida A&M University football coach Jake Gaither is now a museum listed on the…
212 Young Street
Tallahassee FL
(850) 765-1945
Located at Cascades Park, the Smokey Hollow Commemoration celebrates the legacy of the historic black neighborhood of Smokey Hollow. The…
101 South Gadsden Street
Tallahassee FL
On May 26, 1956, Florida A&M University students Wilhelmina Jakes and Carrie Patterson were arrested in Tallahassee because they refused…
1601 S Martin Luther King Jr. Blvd
Tallahassee FL 32307
Monument is comprised of 67 plaques, each honoring veterans from one Florida county, and a central pillar, which is a…
500 S Bronough St
Tallahassee FL
850-245-6400
The Reverend C.K. Steele (1914-1980) was the most recognizable figure in the Tallahassee Civil Rights movement of the 1950s and…
111 West Tennessee Street (City Bus Plaza)
Tallahassee FL 32301
(850) 212-2063
From October 1539 through March 1540, Spanish conquistador Hernando de Soto and his expedition occupied land in present-day Tallahassee. De…
1022 De Soto Park Drive
Tallahassee FL 32301
(850) 922-6007