History & Heritage
A destination with rich historical roots woven into our core, Florida's Capital City is home to one of the largest and oldest historically black universities in the country and an array of museums and historic sites each offering a glimpse into the lives that shaped Tallahassee.
Explore exciting Tallahassee activities and plan your next adventure.
10 Amazing Tallahassee Trails
Get out of the city and explore some of Tallahassee's best trails. We're highlighting 10 of our personal favorites, but there are even more to explore at Trailahassee.com. You can search by terrain, activity, skill level, and more, so finding the path to the perfect getaway is only a few clicks away.
Read More
History & Heritage Blog Posts
Browse
History & Heritage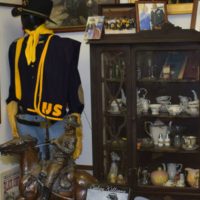 The museum features more than 3,000 artifacts representing local, state and national African-American history. Open Tuesday-Saturday 10 a.m.- 5 p.m.
214 Alexander St
Thomasville FL 3l792
(229) 226-5029
One of the state's most important archaeological sites, where more than eight centuries ago Native Americans lived. Today the park…
3600 Indian Mounds Rd.
Tallahassee FL 32301
(850) 922-6007
Built in 1894 by Lewis W. Taylor, a community educator and leader. Today, the home is listed on the National…
442 West Georgia Street
Tallahassee FL 32301
(850) 222-6111
Bounded approximately by Tennessee Street, Alabama Street, Woodward Avenue and Martin Luther King Jr. Blvd. Frenchtown is Tallahassee's best-known black…
N Macomb St & W Virginia St
Tallahassee FL 32301
(850) 513-9981
Built in 1838, this prominent Classic Revival style building still has its original gallery set aside for slaves who were…
Downtown, 110 N. Adams Street
Tallahassee FL 32301
(850) 222-4504
Listed on the National Register of Historic Places, the mansion's Greek Revival architectural style and the central portico was designed to resemble…
700 North Adams Street
Tallahassee FL 32301
(850) 488-4661
When a 1936 ordinance prevented the sale of burial plots to blacks in the Old City Cemetery, J.R.D. Laster, Tallahassee's…
1601 Old Bainbridge Rd.
Tallahassee FL 32303
Promenade through Tallahassee's oldest continuous green space. Chain of seven parks encompass historic homes, anchored by historic cemetaries on the…
Park Avenue (Call St. - College Ave.)
Tallahassee FL
(850) 488-7334
Florida's oldest surviving bank building that reopened after the Civil War as the Freedom Savings and Trust Company for emancipated…
219 Apalachee Parkway
Tallahassee FL 32301
(850) 561-2603
Florida's archival records are invaluable historical and cultural resources that protect citizens' rights, promote good government, and illuminate our diverse…
500 S. Bronough St.
Tallahassee FL
(850) 245-6719