History & Heritage
A destination with rich historical roots woven into our core, Florida's Capital City is home to one of the largest and oldest historically black universities in the country and an array of museums and historic sites each offering a glimpse into the lives that shaped Tallahassee.
Discover
Tallahassee >
10 AMAZING TALLAHASSEE TRAILS
Get out of the city and explore some of Tallahassee's best trails. We're highlighting 10 of our personal favorites, but there are even more to explore at Trailahassee.com. You can search by terrain, activity, skill level, and more, so finding the path to the perfect getaway is only a few clicks away.
Read More
History & Heritage Blog Posts
Browse
History & Heritage
Once an operating training facility – it served as an amphibious training base for nearly 30,000 soldiers between 1941 and…
1873 Hwy 98 West
Carrabelle FL 32322
(850)697-8575
Features more than 170 rare vehicles autos including a 1931 Duesenberg, the Tucker and three Batmobiles. Other collections include antique…
6800 Mahan Drive
Tallahassee FL 32308
(850) 942-0137
From October 1539 through March 1540, Spanish conquistador Hernando de Soto and his expedition occupied land in present-day Tallahassee. De…
1022 De Soto Park Drive
Tallahassee FL 32301
(850) 922-6007
Built in 1894 by Lewis W. Taylor, a community educator and leader. Today, the home is listed on the National…
442 West Georgia Street
Tallahassee FL 32301
(850) 222-6111
Exhibits chronicling the life of U.S. Congressman Claude Pepper (1900-1989). Includes interactive exhibits, 1937 Studebaker campaign car, reproduction of House…
850-644-9217
Restored to its 1902 grandeur with stained-glass dome and candy-striped awnings, the Historic Capitol stands as an icon at the…
400 South Monroe Street
Tallahassee FL 32399-1100
(850) 487-1902
Listed on the National Register of Historic Places, this is the site of two forts – a British fort built…
Forest Road 129-B
Eastpoint FL 32328
(850) 643-2282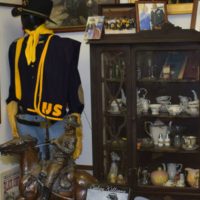 The museum features more than 3,000 artifacts representing local, state and national African-American history. Open Tuesday-Saturday 10 a.m.- 5 p.m.
214 Alexander St
Thomasville FL 3l792
(229) 226-5029
The Concord Schoolhouse was originally completed in 1897 for African American children in the small town of Miccosukee Florida. It…
3945 Museum Rd.
Tallahassee FL 32310
Originally a 1,600-acre cotton plantation, the home is now on the National Register of Historic Places and serves as museum…
1600 Miccosukee Road
Tallahassee FL 32308
(850) 877-4202