History & Heritage
A destination with rich historical roots woven into our core, Florida's Capital City is home to one of the largest and oldest historically black universities in the country and an array of museums and historic sites each offering a glimpse into the lives that shaped Tallahassee.
CELEBRATE AFRICAN AMERICAN HISTORY & CULTURE
Tallahassee reflects and commemorates its African American heritage and culture year-round. From being the first city in Florida to hear a reading of the Emancipation Proclamation to museums, boycotts and the only stop in Florida on the National Blues Trail, Tallahassee celebrates the impact African Americans have made on the country.
Read More
History & Heritage Blog Posts
Browse
History & Heritage
Enjoy panoramic views of Tallahassee and the surrounding landscape from the 22nd floor observatory which also includes a gallery displaying…
400 South Monroe Street
Tallahassee FL 32399
(850) 488-6167
Letchworth-Love Mounds Archaeological State Park is one of the state's most significant Native American ceremonial sites, featuring Florida's tallest Native…
4500 Sunray Rd.
Tallahassee FL 32309
(850) 922-6007
Tracing Florida's history throughout the centuries, permanent exhibits include a mastodon skeleton, a diorama depicting life along the St.John's river…
500 S. Bronough St.
Tallahassee FL 32399
(850) 245-6396
Side One: Throughout the 1950s-1970s, large-scale, nonviolent demonstrations by audacious students attending Florida Agricultural and Mechanical University (FAMU), Florida State…
441 East Paul Russell Road
Tallahassee FL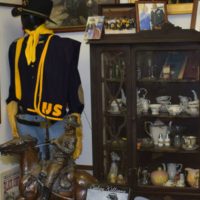 The museum features more than 3,000 artifacts representing local, state and national African-American history. Open Tuesday-Saturday 10 a.m.- 5 p.m.
214 Alexander St
Thomasville FL 3l792
(229) 226-5029
Built in 1890 by John G. Riley, local educator and civic leader, the home is the last visible evidence of…
419 E. Jefferson St.
Tallahassee FL 32301
(850) 681-7881
From October 1539 through March 1540, Spanish conquistador Hernando de Soto and his expedition occupied land in present-day Tallahassee. De…
1022 De Soto Park Drive
Tallahassee FL 32301
(850) 922-6007
Built in 1838, this prominent Classic Revival style building still has its original gallery set aside for slaves who were…
Downtown, 110 N. Adams Street
Tallahassee FL 32301
(850) 222-4504
The former antebellum and hunting plantation of famed naturalist Henry Beadel comprises 4000 acres on the north shore of Lake…
13093 Herny Beadel Dr.
Tallahassee FL 32312
(850) 893-4153
Once an operating training facility – it served as an amphibious training base for nearly 30,000 soldiers between 1941 and…
1873 Hwy 98 West
Carrabelle FL 32322
(850)697-8575