History & Heritage
A destination with rich historical roots woven into our core, Florida's Capital City is home to one of the largest and oldest historically black universities in the country and an array of museums and historic sites each offering a glimpse into the lives that shaped Tallahassee.
Discover
Tallahassee >
10 AMAZING TALLAHASSEE TRAILS
Get out of the city and explore some of Tallahassee's best trails. We're highlighting 10 of our personal favorites, but there are even more to explore at Trailahassee.com. You can search by terrain, activity, skill level, and more, so finding the path to the perfect getaway is only a few clicks away.
Read More
History & Heritage Blog Posts
Browse
History & Heritage
A historical marker in remembrance of Ernest Ponder, Richard Hawkins, Mick Morris, and Pierce Taylor, Black victims of racial terror…
798 S. Meridian Street
Tallahassee FL
Ready to do something fun, exciting, and unforgettable in Tallahassee? Take off with Tallahassee Helicopters for a breathtaking and memorable sightseeing…
3240 Capital Circle SW Tallahassee
Tallahassee FL 32310
(850) 841-1111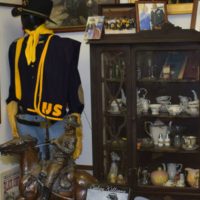 The museum features more than 3,000 artifacts representing local, state and national African-American history. Open Tuesday-Saturday 10 a.m.- 5 p.m.
214 Alexander St
Thomasville FL 3l792
(229) 226-5029
The Reverend C.K. Steele (1914-1980) was the most recognizable figure in the Tallahassee Civil Rights movement of the 1950s and…
111 West Tennessee Street (City Bus Plaza)
Tallahassee FL 32301
(850) 212-2063
A 300-piece collection of antique radios, record players and music boxes from the 1920s through the late 1960s. Accumulated over…
1600 Red Barber Plaza
Tallahassee FL 32310
(850) 487-3086
When a 1936 ordinance prevented the sale of burial plots to blacks in the Old City Cemetery, J.R.D. Laster, Tallahassee's…
1601 Old Bainbridge Rd.
Tallahassee FL 32303
Exhibits chronicling the life of U.S. Congressman Claude Pepper (1900-1989). Includes interactive exhibits, 1937 Studebaker campaign car, reproduction of House…
850-644-9217
Vietnam Veterans of America, Big Bend Chapter 96, Inc., is sponsoring the Vietnam Traveling Memorial Wall in the Fred O.…
241 Lake Ella Dr
Tallahassee FL
Tells the story of the city's bus boycott of 1956 and the lunch counter sit-in demonstrations of 1960-1963. The sidewalk…
East Jefferson Street
Tallahassee FL 32301
Moument features 40-foot American flag suspened between twin granite towers bearing the names of Florida's Vietnam casualties and soilders missing…
intersection of N. Monroe St and Apalachee Pkwy, across from the Historic Capitol
Tallahassee FL