History & Heritage
A destination with rich historical roots woven into our core, Florida's Capital City is home to one of the largest and oldest historically black universities in the country and an array of museums and historic sites each offering a glimpse into the lives that shaped Tallahassee.
Discover
Tallahassee >
10 AMAZING TALLAHASSEE TRAILS
Get out of the city and explore some of Tallahassee's best trails. We're highlighting 10 of our personal favorites, but there are even more to explore at Trailahassee.com. You can search by terrain, activity, skill level, and more, so finding the path to the perfect getaway is only a few clicks away.
Read More
History & Heritage Blog Posts
Browse
History & Heritage
A 300-piece collection of antique radios, record players and music boxes from the 1920s through the late 1960s. Accumulated over…
1600 Red Barber Plaza
Tallahassee FL 32310
(850) 487-3086
Moument features 40-foot American flag suspened between twin granite towers bearing the names of Florida's Vietnam casualties and soilders missing…
intersection of N. Monroe St and Apalachee Pkwy, across from the Historic Capitol
Tallahassee FL
Tallahassee Community College serves more than 14,000 students in university transfer and career preparation programs. Approximately 75 percent of TCC's…
444 Appleyard Drive
Tallahassee FL 32304
(850) 201-6200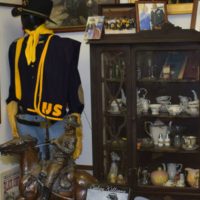 The museum features more than 3,000 artifacts representing local, state and national African-American history. Open Tuesday-Saturday 10 a.m.- 5 p.m.
214 Alexander St
Thomasville FL 3l792
(229) 226-5029
The Concord Schoolhouse was originally completed in 1897 for African American children in the small town of Miccosukee Florida. It…
3945 Museum Rd.
Tallahassee FL 32310
Vietnam Veterans of America, Big Bend Chapter 96, Inc., is sponsoring the Vietnam Traveling Memorial Wall in the Fred O.…
241 Lake Ella Dr
Tallahassee FL
Florida Agriculture & Mechanical University, one of the nation's largest historically Black universities is found on the highest of Tallahassee's…
1601 S Martin Luther King Jr Blvd
Tallahassee FL 32307
850-599-3550
Tallahassee's first public cemetery served as the burial place for both blacks and whites as early as 1829. Laws required…
Martin Luther King Jr. Blvd and Park Avenue
Tallahassee FL 32301
(850) 545-5842
On the lawn of the Old Capitol are two marble obelisks. The southern monument is dedicated to Capt. John Parkhill.…
400 S. Monroe St.
Tallahassee FL 32399
Features more than 170 rare vehicles autos including a 1931 Duesenberg, the Tucker and three Batmobiles. Other collections include antique…
6800 Mahan Drive
Tallahassee FL 32308
(850) 942-0137