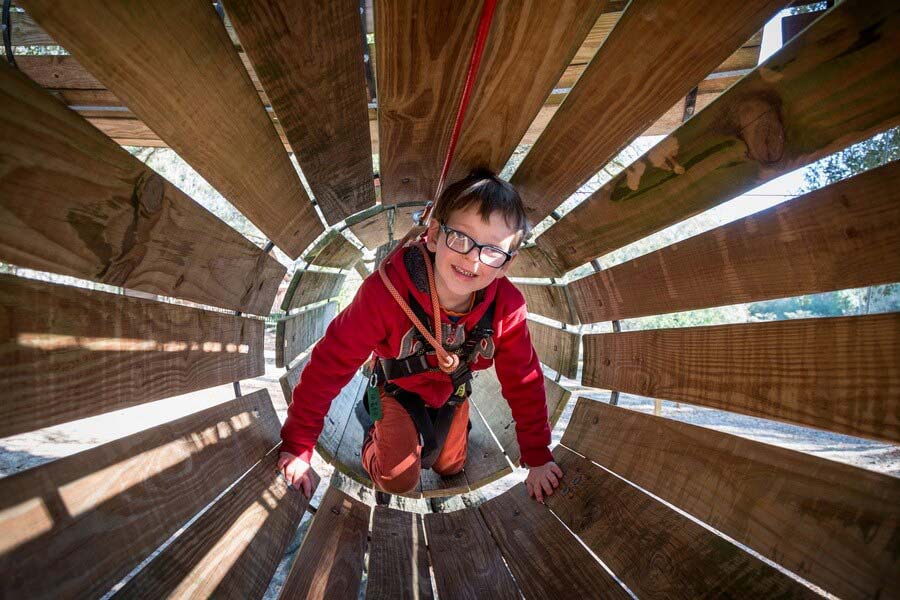 10 Things To Do In Tallahassee With Kids
By Erin Bender
Although Tallahassee, Florida is known as a university town, we discovered there are plenty of fun, family-friendly things to do. Here are our favorites:
If I could describe this place in one sentence, it would be: a childlike fantasy world masterfully executed with intelligence and precision. Everything about it is fun. A part candy store, part classic ice cream parlor and part toy store, all mixed together with a splash of whimsy and a dash of wonder. What child wouldn't love that?
Kids will have a great time playing with toys, table games or just watching fresh candy being handmade. Owner, Greg Cohen, has gone to painstaking lengths to recreate time-tested, 100-year-old candy making processes enhanced with a modern twist.
You could spend hours here and no one would complain.
Part of the deceptively named Tallahassee Museum, this complex is far from a stale, dusty, old museum. In fact, it's the exact opposite.
Set amidst 52 acres of gorgeous Florida cypress swamps is a high ropes and zip line adventure with 3 different courses to choose from. My 5-year-old did the easiest one. After a thorough safety briefing, my 7-year-old joined Josh and I on the Canopy Crossing (middle level). The tougher Soaring Cypress looked awesome, but we just ran out of time.
The elevated obstacles tested my strength, balance and coordination, but I triumphed.
A wooden playground on-site will keep little tots amused if they're too young for the ropes course.
After you've soared through the trees of the Tallahassee Museum, you'll want to explore the grounds. The flora and fauna are simply gorgeous. Cypress trees grow out of the swamps giving it an almost otherworldly feel. Take the boardwalk through the nature trails to discover the wildlife (both caged, and wild animals). Our favorite were the brand new panther cubs that playfully chased each other – so cute!
Perhaps not the most January-friendly activity, but it was so tranquil and serene I am certainly glad we did it.
For $45 you can hire a tandem kayak for 4 hours to paddle up the Wakulla River. Here you are likely to spot manatee, otters, turtles, birds and (if you are lucky or perhaps, unlucky) alligators.
It was a cold morning as we started off in our kayaks, but soon we were all warm from the paddling. There was not another human soul to be seen and all we could hear was the splash of the oars and the occasional bird chirping.
Of course the return journey was so much easier as we let the current carry us back.
5. Eat Your Heart Out
There is so much deliciousness in this city. You do not want to leave without trying our favorite dining recommendations.
Wakulla Springs is the perfect place to see wild manatees. These gentle creatures swim upstream to play in the warm waters of one of the world's largest fresh water springs. An astonishing 2000-4000 gallons of water flow out of the spring every second at a constant temperature of 69°F (20°C). A diving tower jutting out into the spring provides a bird's eye view of the good-natured manatees as they congregate in the deeper waters – even the babies.
Manatees (or sea cows) look like grey, tusk-less walruses, but are much cuter. We stared in amazement for a while as the youngest member of the herd curiously nuzzled the colorful buoys and cuddled his mummy.  As mammals, they rise to the surface every 3 to 5 minutes to breathe, so you can get a better look with a little patience.
If you want to get even closer to nature, you can catch the relaxing jungle cruise. It leaves approximately every hour from 9 A.M. to 5 P.M. and travels down the river with a guide pointing out manatees, turtles, black vultures, egresses and plenty of alligators. It's an inexpensive activity and you're sure to get your fill of gators. It kind of freaked me out since it was the very same river we kayaked on earlier that morning.
If you are looking for more culture in your Tallahassee vacation mixed with an element of exploration, then head to Mission San Luis where you will be transported back to the 1600s.
History tells us that the Mission was a community where Apalachee Indians and newcomers from Spain co-existed in harmony and peace.  It was home to more than 1,400 residents before a British invasion in 1704 left it in ashes.
Now a National Historic Landmark, Mission San Luis has been carefully reconstructed and is the only Spanish mission in Florida. It consists of a number of structures including a circular Apalachee council house, Spanish house, blacksmith, church, chapel, friary kitchen and more. Period-dressed characters share their history, showing first-hand how they lived – literally bringing history to life. Well worth the visit.
This is another attraction using the apparent dreary "museum" title for something that is in fact so much more fascinating. Goodwood brings a historic 1840s Floridian plantation property to life. Originally this 2,400-acre cotton and corn plantation housed up to 240 slaves. But after the American Civil War, it changed hands several times before being converted into a living museum in the 1970s.
9. Tour The Very Impressive Mag Lab
The Mag Lab had my husband completely geeking out. Honestly, I didn't think it would be my ideal way to spend an afternoon, but science buffs and analytical thinkers will have a field day here. We took a guided tour through the only lab of its kind in the United States and witnessed the world's most powerful magnets. And what researchers use them for is pretty incredible – with applications ranging from material development to energy to medical. For someone who barely passed science class in high school, I have to admit I was impressed.
10. Soar High Above Tallahassee On A Helicopter
Last, but not least… want the best view of Tallahassee? Then get high, in a helicopter, that is. Owner, Thomas, has over 29 years flying experience and the whole voyage from the guest lounge to the sky was effortless and smooth. We took the 15-minute Downtown tour and saw the Mag Lab, FSU football stadium, Don Veller Seminole Golf Course, Capitol building and more.
Mia and Caius loved every minute and were buzzing long after stepping off the helicopter. If you are looking for something fun and different, nothing beats seeing a city from a bird's eye view.
Author:
Erin Bender
Travelocity Writer
Erin Bender is an official Travelocity Gnational Gnomad offering tips and inspiration to fellow travel enthusiasts.