History & Heritage
A destination with rich historical roots woven into our core, Florida's Capital City is home to one of the largest and oldest historically black universities in the country and an array of museums and historic sites each offering a glimpse into the lives that shaped Tallahassee.
Discover
Tallahassee >
COOL DOWN AND MAKE A SPLASH!
A joyful jump from the diving platform into the soothing, calm, cool water of Wakulla Springs is sure to delight all ages. The waters of the deepest and largest fresh-water spring in the world remain at a brisk 72 degrees year round, offering both the chill and the thrill of summer memory making adventures. Swim through the clear spring water, enjoy a sights and sounds of the river boat tour or the cool tastes of ice cream delights from the soda fountain cafe.
Read More
History & Heritage Blog Posts
Browse
History & Heritage
Built in 1954 for the Lewis family, this is the only Frank Lloyd Wright-designed private residence in Florida. It has…
3117 Okeeheepkee Road
Tallahassee FL 32303
Ready to do something fun, exciting, and unforgettable in Tallahassee? Take off with Tallahassee Helicopters for a breathtaking and memorable sightseeing…
3240 Capital Circle SW Tallahassee
Tallahassee FL 32310
(850) 841-1111
The mission of The Grove Museum is to preserve and interpret the Call-Collins House, its surrounding acreage, and its historical…
902 N. Monroe St.
Tallahassee FL 32301
(850) 363-5688
On the lawn of the Old Capitol are two marble obelisks. The southern monument is dedicated to Capt. John Parkhill.…
400 S. Monroe St.
Tallahassee FL 32399
The Tallahassee Museum! Set amidst 52 acres of breathtaking Florida flora and fauna, the Museum's living exhibits of native wildlife,…
3945 Museum Dr
Tallahassee FL 32310
(850) 575-8684
This granite monument stands in the heart of Florida A&M University's campus.
1601 S Martin Luther King Jr Blvd
Tallahassee FL 32307
Located in the heart of Tallahassee is a community with history and culture stretching back over a hundred years. The…
435 N Macomb St
Tallahassee FL 32301
A popular attraction offering marine biology experiences through interactive touch aquariums and a variety of demonstration programs.
222 Clark Drive
Panacea FL 32346
(850) 984-5297
Sightseeing Narrated Guided Tours Take a narrated sightseeing tour on an electric golf cart named Wilma, in our comfy SUVs,…
(850) 212-2063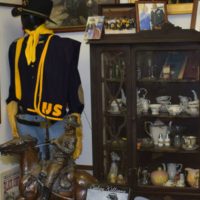 The museum features more than 3,000 artifacts representing local, state and national African-American history. Open Tuesday-Saturday 10 a.m.- 5 p.m.
214 Alexander St
Thomasville FL 3l792
(229) 226-5029
Listed on the National Register of Historic Places, the mansion's Greek Revival architectural style and the central portico was designed to resemble…
700 North Adams Street
Tallahassee FL 32301
(850) 488-4661
The Challenger Learning Center is the area's premier "edu-tainment" destination located in downtown Tallahassee. The Challenger Learning Center (CLC) features…
200 South Duval Street
FL 32301
(850) 645-7827
Listed on the National Register of Historic Places, this is the site of two forts – a British fort built…
Forest Road 129-B
Eastpoint FL 32328
(850) 643-2282
Bear Creek Educational Forest is a 492-acre tract of Lake Talquin State Forest Programs are FREE for any public or private…
8125 Pat Thomas Parkway
Quincy FL 32351
(850) 627-9064
Built in 1894 by Lewis W. Taylor, a community educator and leader. Today, the home is listed on the National…
442 West Georgia Street
Tallahassee FL 32301
(850) 222-6111
Features more than 170 rare vehicles autos including a 1931 Duesenberg, the Tucker and three Batmobiles. Other collections include antique…
6800 Mahan Drive
Tallahassee FL 32308
(850) 942-0137
Established in 1887, Florida Agricultural and Mechanical University (FAMU) remains the only historically black university in Florida's 12 member state…
1700 Lee Hall Dr.
Tallahassee FL 32307
(850) 599-3000
On May 26, 1956, Florida A&M University students Wilhelmina Jakes and Carrie Patterson were arrested in Tallahassee because they refused…
1601 S Martin Luther King Jr. Blvd
Tallahassee FL 32307
Catherine Murat, born a Virginian, moved to Florida with her parents where she met and married a Frenchman, Achille Murat. …
3945 Museum Drive
Tallahassee FL 32310
(850) 575-8684
Tallahassee Segway Tours provides guided tours of local area sights and attractions on Segway i2 SE Personal Transporters. These self-balancing,…
1500 S Monroe St
Tallahassee FL 32301
850.385.6376