History & Heritage
A destination with rich historical roots woven into our core, Florida's Capital City is home to one of the largest and oldest historically black universities in the country and an array of museums and historic sites each offering a glimpse into the lives that shaped Tallahassee.
Discover
Tallahassee >
10 AMAZING TALLAHASSEE TRAILS
Get out of the city and explore some of Tallahassee's best trails. We're highlighting 10 of our personal favorites, but there are even more to explore at Trailahassee.com. You can search by terrain, activity, skill level, and more, so finding the path to the perfect getaway is only a few clicks away.
Read More
History & Heritage Blog Posts
Browse
History & Heritage
Florida State University (FSU) is a public, fully accredited, coeducational research institution with an international reputation in the sciences and…
600 W. College Avenue
Tallahassee FL 32306
(850)644-525
The mission of The Grove Museum is to preserve and interpret the Call-Collins House, its surrounding acreage, and its historical…
902 N. Monroe St.
Tallahassee FL 32301
(850) 363-5688
Enjoy panoramic views of Tallahassee and the surrounding landscape from the 22nd floor observatory which also includes a gallery displaying…
400 South Monroe Street
Tallahassee FL 32399
(850) 488-6167
Farmer's Market
524 N. MLK jr. Blvd
Tallahassee FL 32301
Sightseeing Narrated Guided Tours Take a narrated sightseeing tour on an electric golf cart named Wilma, in our comfy SUVs,…
(850) 212-2063
Side One: Throughout the 1950s-1970s, large-scale, nonviolent demonstrations by audacious students attending Florida Agricultural and Mechanical University (FAMU), Florida State…
441 East Paul Russell Road
Tallahassee FL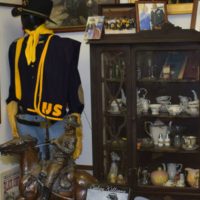 The museum features more than 3,000 artifacts representing local, state and national African-American history. Open Tuesday-Saturday 10 a.m.- 5 p.m.
214 Alexander St
Thomasville FL 3l792
(229) 226-5029
Tallahassee Segway Tours provides guided tours of local area sights and attractions on Segway i2 SE Personal Transporters. These self-balancing,…
1500 S Monroe St
Tallahassee FL 32301
850.385.6376
The former antebellum and hunting plantation of famed naturalist Henry Beadel comprises 4000 acres on the north shore of Lake…
13093 Herny Beadel Dr.
Tallahassee FL 32312
(850) 893-4153
Tours of Tallahassee offers First Class multi-day tours of Florida's Capital historic areas and beyond. We maximize the experience by combining…
(850) 725-6456
Site of a March 1865 Civil War battle where Confederate soldiers defeated Union troops and kept Tallahassee from falling into…
7502 Natural Bridge Rd.
Tallahassee FL 32305
(850) 922-6007
Letchworth-Love Mounds Archaeological State Park is one of the state's most significant Native American ceremonial sites, featuring Florida's tallest Native…
4500 Sunray Rd.
Tallahassee FL 32309
(850) 922-6007
Originally a 1,600-acre cotton plantation, the home is now on the National Register of Historic Places and serves as museum…
1600 Miccosukee Road
Tallahassee FL 32308
(850) 877-4202
Tallahassee's first public cemetery served as the burial place for both blacks and whites as early as 1829. Laws required…
Martin Luther King Jr. Blvd and Park Avenue
Tallahassee FL 32301
(850) 545-5842
Tells the story of the city's bus boycott of 1956 and the lunch counter sit-in demonstrations of 1960-1963. The sidewalk…
East Jefferson Street
Tallahassee FL 32301
See history come alive through costumed living history, hands-on exhibits, re-creations of period buildings and archaeological excavations at the only…
2100 West Tennessee St.
Tallahassee FL 32304
(850) 245-6406
Built in 1843, this historical home is the former residence of state official William Knott and his wife, Luella. In…
301 E. Park Ave.
Tallahassee FL 32301
(850) 922-2459
Moument features 40-foot American flag suspened between twin granite towers bearing the names of Florida's Vietnam casualties and soilders missing…
intersection of N. Monroe St and Apalachee Pkwy, across from the Historic Capitol
Tallahassee FL
Tallahassee Community College serves more than 14,000 students in university transfer and career preparation programs. Approximately 75 percent of TCC's…
444 Appleyard Drive
Tallahassee FL 32304
(850) 201-6200
Spanish explorer Panfilo de Narvaez arrived in the area with 300 men in 1528 and two Spanish colonial forts were…
148 Old Fort Rd.
St. Marks FL 32355
(850) 925-6216